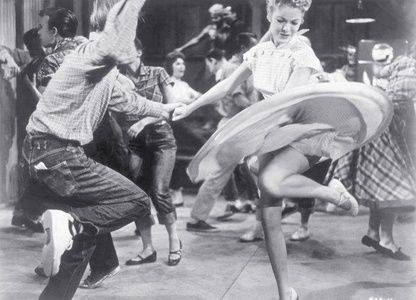 Scroll down to find out more about what we get up to, including:
Lessons (next beginner set starts Monday 5th Feb 2024)
Club nights, hops, mix & mingles
Competitions
Demos and fundraising
See our calendar of up-coming events here.
Learn to dance
In just six weeks you'll learn the basics of rock'n'roll dancing '50's style!
Our hour-long beginner lessons are held on Monday evenings from 7.30pm, at Northland Hall, and teach a series of simple moves. You don't have to bring a partner, although of course you're welcome to. We suggest you wear comfortable casual clothing, and flat shoes please. Just $40 for the set of six lessons if paid on the first night, or pay as you go for $8 per lesson.
Intermediate lessons
With our set of beginner moves under your belt, half-hour intermediate lessons are included in most of our Monday club nights. Each typically teaches a specific move, and is often repeated or extended the next Monday – though sometimes we also drop in a simple rock'n'roll line dance or similar, instead. The cost of these lessons is included in your club night door price.
We also sometimes run workshops – usually for a couple of hours, again at Northland Hall, but usually not on a Monday evening – to focus on a particular topic, skill level, or group of people. They are advertised via our weekly updates and Facebook page.
Club nights, hops, mix & mingles
Everyone's welcome at our club nights, which are held every Monday evening and provide an opportunity to dance, practice, learn, and socialise. There's often an intermediate-level lesson, and music playing throughout the rest of the evening. 
We usually hold a hop on the 1st Saturday of the month – they're all about dancing! DJs play a mix of music from the 50s and 60s right through to 2000's. Sometimes there's a theme. There's a light supper provided around 10pm. As always, flat shoes only, on the dance floor.
Our mix and mingles (or M&Ms) are a combination of a club night and a hop – on a Monday evening, with the lights down low and the music turned up – no lessons or interruptions, just dancing.
Demos and fundraisers
We're always looking for ways to get our club name out and about in the community!
If you're looking for something different at your next company gathering, public event, or party, why not book us in? We can tailor to your preferred timing and music choices, include some easy crowd-participation, or even a basic lesson for the more adventurous!
You might also see us sizzling sausages outside a Warehouse or Bunnings, or in other fund-raising activities – which also help advertise our club, and usually include music and dancing!
Competitions
Rock'n'roll competitions are hosted by individual clubs, regionally, and nationally, at different times throughout the year, and cater for all levels of dancing experience and ability.
They're also great to attend, to watch some amazing dancing and pick up some new moves, and usually include plenty of time for social dancing.